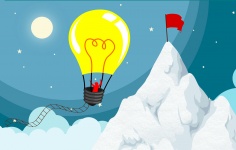 The blessings we have discussed working in concert with one another. We must intentionally apply a mix of the blessings to create healthy and inviting environments from the beginning of one's Jewish community professional experiences to motivate and bless our professionals for the long-term.
Our Portrait: Evan Traylor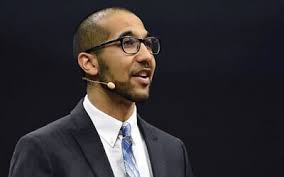 The 12 Jewish community professionals we have gotten to know thus far and the big idea of how to best motivate, value, and bless our workforce are all from individuals 10-20 years into their careers. They have each experienced highs and lows and continue to evolve, each a work in progress.
Our last portrait is significantly earlier in his career path, having graduated from the University of Kansas in 2016. Thus far, all seems to be going well for Evan Traylor. Many of the blessings we have introduced throughout this volume are present in Evan's journey, keeping him motivated and blessed to be in our workforce. Thus, Evan is an emerging success story from our newest generation of Jewish community professionals. Examining a bit of his journey can help us uncover how to be intentionally successful with motivating and blessing upcoming talent. I place in bold areas in which Evan's journey were impacted by our noted blessings.
Evan's journey begins in Oklahoma City where he was frequently engaged with vibrant and exciting Jewish life experiences. He was active in his Reform congregation and spent summers at the Union for Reform Judaism's Greene Family Camp. In high school he got involved in NFTY (North American Federation of Temple Youth), and by his senior year was elected as NFTY's North American President. He also had the opportunity to spend time at URJ Camp Kutz, a teen leadership camp in Warwick, NY which closed after the 2019 Summer. During these childhood and adolescent experiences, Evan recalled being surrounded by passionate and engaging young Jewish adults. From a young age, Evan thought it would be "really cool" to be a rabbi or serve a Jewish organization, campus, or camp at a leadership level. Evan was surrounded by mentors and peers who modeled the joy and soul-fulfillment that comes from working in Jewish life. He built meaningful relationships with them and his co-participants and was able to see the fruits of their labor frequently. He would also easily notice them getting fired up when they got to feed their creative drive in planning and executing new programs, which got Evan fired up.
Still, Evan had other passions, including policy and politics, which led him to double major in political science and Jewish studies at the University of Kansas. During the spring semester of his junior year, Evan completed an internship in Washington, D.C. working for the central office of the D.C. public schools. He assisted with recruiting, hiring, and training principals and assistant principals for the district.
Similar to Ezra Shanken's journey in Blessing #3, though, something was missing. He went back to URJ Kutz Camp the following summer to teach teens and work closely with fellow counselors, and he felt he was in a space that made a visible and lasting difference. Though politics and policy still called to Evan, he found the challenge of serving in Jewish life more compelling. He also felt the social connections and received the validation in Jewish spaces that spoke to his core. By his senior year, Evan made the decision to look for a job in Jewish life.
During his college years, Evan kept strong connections to leadership at URJ and they began considering together how Evan could serve them post-graduation. Evan was able to land a unique role as the Presidential Fellow for Millennial engagement, which he described as "everything he was looking for" in his first job. He was able to work with friends with whom he had built deep relationships. He was able to work at a place that where felt belonging and a sense of purpose. He was also tasked with a broad big-picture assignment, engaging colleges students 20's and 30's in Jewish life, which required Evan to look at the big picture of operations for the movement. Further, Evan was fortunate to receive mentorship on a bi-weekly basis from the URJ President, Rabbi Rick Jacobs. It would not be hyperbole to say that Evan felt blessed with this set up.
After two years as a Presidential Fellow, Evan continued with the URJ, shifting his work back to the college space as its Associate Director for College Engagement, a position he held at the time of our interview. His job was created his needs, giving them the flexibility to move back to D.C. in part to be close to his partner and to feed his continuing passion for politics. He was tasked with building meaningful relationships with college students across the continent as well as with partners and collaborators, including Hillel International. He is encouraged to identify gaps in the services the Reform movement may be missing to best serve the college-age population and encouraged to be innovative and iterative, which feeds his entrepreneurial spirit. Evan is given ample space and flexibility to operate and start new initiatives, which was different to his experience, for example, working for DC public schools, where he often observed colleagues "going through the motions." Evan also felt like he can see a path of long-term growth for him at URJ. As he put it to me, "he can paint the picture of when we can do more of this work on a larger scale."
Evan's situation isn't perfect. He acknowledges getting frustrated when he has a creative idea that he is eager to pursue yet has to slow down because of bureaucracy. It is this inefficiency, that frustrates Evan. As he worked for a very big legacy organization, there was the struggle to keep the right people in the loop while still attempting to move forward in a timely manner and being sure he is kept in on the loop as well. This is often complicated further when he collaborates with other legacy institutions that face similar issues.
Certainly, it is difficult to remove all bureaucracy from a job. Processes and systems are often set up for good reason. Yet, Evan, despite all the blessings that have helped him enter and stay happily in the Jewish community professional sector, feels a constant tension between the need to be creative and the reality that most Jewish organizations are not prepared to run at a million miles per hour.
Still, the blessings that surround Evan's Jewish personal and professional journey thus far have far outweighed the frustrations. Given what we have learned throughout the journey of this Bless Our Workforce project, we could make the case that the presence and application of these blessings are largely why Evan became a Jewish community professional and why he sees a long-term vibrant and enjoyable future on this path. In addition, and as we will extrapolate further in our next blessing, the determinative factors for many of the Jewish community professionals we have met have also been true for Evan. Evan was heavily influenced by mentors and role models from a young age who showed him the joy working in Jewish community and encouraged him to become professionally involved. Evan is also incredibly connected to the mission of the Reform Movement, having been inspired by it all his life and holding positions in which it is abundantly clear how his work directly serves the cause. Further, Evan has been given ample flexibility in each of his roles, from managing his own time to being granted the move to D.C., demonstrating trust and autonomy that allow Evan to thrive.
For Evan compensation, work/life balance, and DEIJ (diversity, equity, inclusion, and justice), areas of adjustments we will discuss in Blessing #15, are not major issues in his Jewish community professional experience. Evan generally has felt fairly well compensated in his professional roles. He has never viewed the rates to be overly generous, yet has always had enough to pay the rent, buy food, and have at least some income for discretionary expenses. Of course, Evan is still in his 20's and, like many of his peers, has fewer expenses than many of the more senior Jewish community professionals we have encountered. Evan recognizes that over time, for his wage not to be a de-motivator, his compensation will need to grow.
What is unique about Evan relative to most of the other professionals we have met is that he is a Jew of color. As has become more prominent in today's discussions around diversity in Jewish life, we now know, thanks to many Jewish organizations including Dimensions and the Jews of Color Field Building Initiative, approximately 20% of Jews in the United States are people of color, and one has to infer that at least a meaningful percentage of Jewish community professionals are also people of color. Growing up in a small Jewish community in Oklahoma City, being a Jew of Color (JOC) wasn't something that Evan felt every time he went to synagogue. However, in high school and college, Evan came to take more ownership in exploring his identities and understanding the unique opportunities and challenges that came with being a JOC.
He recognizes now, though, that while it hadn't been part of his personal narrative, it was now going to be a part of his public one. There was a lot of awakening around Jews of color during the time that Evan was college (2012-2016), and because was already in several leadership roles in the Jewish community, he was primed for the time today in which more JOC and, frankly, more diversity overall would obtain leadership roles in Jewish life.
Despite having his own fair share of experiences with alienation, as that is the reality for many JOC feeling like they don't belong in many Jewish spaces, Evan's experience of staying in the Jewish community demonstrate the importance of creating more inclusive spaces. We can look to Evan's experience as a road map. In the Jewish spaces he grew up in, from Oklahoma to NYC to DC, he always felt included, part of the oneness, in the tribe of Jewish community and later in Jewish professional life. Evan felt comfortable working for the URJ because of personal relationships with staff and lay leaders.
Our important lesson here is to be especially intentional that our actions convey that all Jewish community professionals feel belonging in Jewish community spaces, which requires all of us to do a lot of deep listening and learning. We must have these coffee dates with Jewish community professionals of all backgrounds, ethnicities, and races, and continue to make a meaningful and substantive attempts to create and nurture spaces that celebrate all of us and make us feel that we belong.
Evan is just one story among the thousands of younger individuals today who have had meaningful, engaging, and joyful Jewish experiences from a young age and perhaps hundreds, hopefully at least dozens, that have been further inspired to seek a career in Jewish life. As this book is published Evan is enrolled in Rabbinical School at Hebrew Union College – Jewish Institute of Religion. To those not yet inspired but whom we also can attract to our field, we can see Evan's narrative as instructive. We have the power to intentionally make use of the blessings in this book, and create the environments in our organizations in which the strategies and techniques from these blessings are implemented, visible, and vibrant.